Arriving early to the airport is the best tip ever! Recently, I needed to catch my Berlin-Paris flight and halfway to the airport I noticed I'd left my passport at the accommodation. It ended with me running like a mad woman, a 32,5€ taxi, a huge security line and more running. And even like that I didn't make it on time, luckily the plane was delayed by 30 minutes!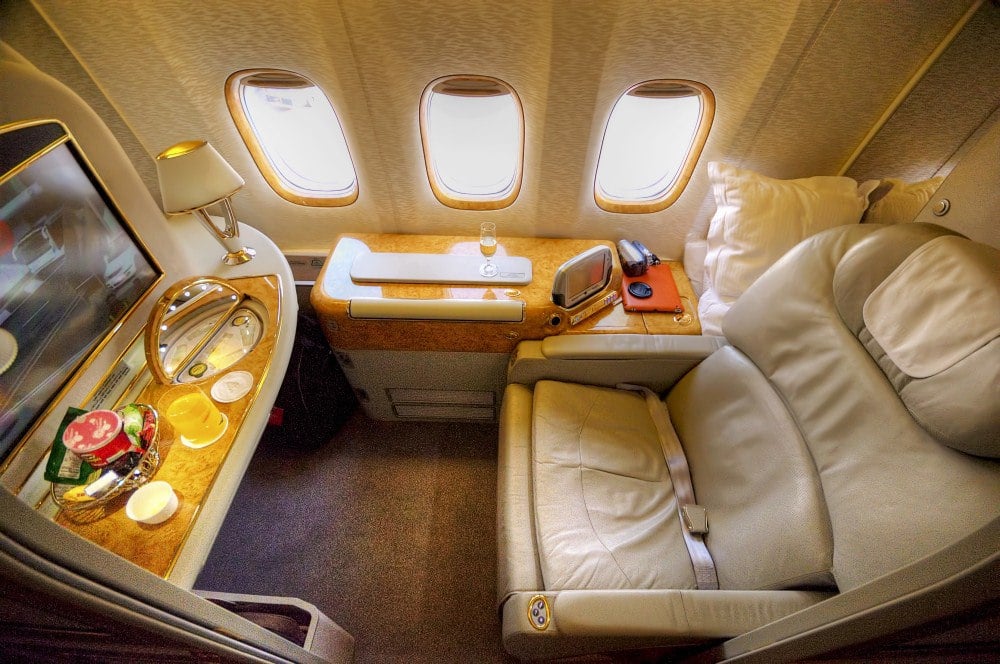 When my wife and I travel with our two girls, one of us handles the kids and the other person gets to sit in a "sanity seat." Basically, one person is stuck with the kids, while the other person is in a child-free paradise in another part of the plane, eating sandwiches with those other couples. When things get bad, you simply switch seats with the other parent so that everyone shares in the misery. If I'm sitting in the "sanity seat" and I hear my kids wailing and screaming at the back of the plane, I often turn to the person next to me and say, "Geez, some parents just can't control their children."
This is number one for a reason, mostly the bassinet part. You'll survive in any seat on a short flight, though an aisle is super preferable for getting up to walk or change the baby. On most international flights there are baby bassinets that fasten to the bulkheads. You often can't actually reserve or book them. However, I always call in advance and put in a request for one—they can note that you requested it on your ticket. It doesn't hurt. The key is to show up early and beat the other babies! I'm only kind of joking. They are often (depending on the airline) doled out on a first come, first serve basis at the gate, so it's essential to be early for your flight so you can be there to nab it. I also research the layout of whatever plane I'm flying and book the seats closest to the bassinet. You usually can't book the actual seats because they are set aside for people with babies, such as yourself! We have managed to get the bassinet on every long haul international flight (and there have been many). Show up early, for real. And always call before to see if you can reserve it or at least put in a request. And note, the maximum weight allowance is usually between 20-30 lbs. This is a great comprehensive resource that covers policy by airline. 
Let's say you're flying straight to Bangkok, where you've given yourself three days to see the main attractions. You can plan it all out, but you'll most likely end up jetlagged and sleeping away a chunk of that time in the city. When you're planning how long to stay in a place, take jetlag into account, as well as general travel fatigue. Remember you won't want to be outside exploring for 12 hours a day every single day.
You might want to mention that many (most?) banks with online services allow you to instantly set daily & weekly limits on your ATM and credit card purchases, and many of them let you adjust those limits for a particular period of time, such as when you are traveling. I always set lower limits on my cards when I am traveling, just a bit of insurance.
It was wonderful reading your blog. The tips are informative and very helpful. I totally agree with points 2 and 6. During my previous tours, I had to cut visits due to lack of time. Talking to the locals can help you get a better insight into the places. During my last travel, I got good help from the locals to find the best affordable restaurants to try the local food.
Eula actually clocked in 6 months old in Morocco, and we waited to let her try solids until Paris just because we didn't want to take any chances with food born illness. Now at 13 months, I happily let her nibble off of my street food here (I'm writing this from my friend Emma's flat in Marrakech!) Once we did introduce food, we let her try things at her own pace and we really let local norms guide us. If local children ate it, we let her eat it. I still avoid giving her raw foods (like salad) in countries where the water isn't very clean because not only is the food not cooked to kill bacteria, it's washed in the water. That said, I make an exception for fruit with skins and things that can be peeled.
If your lack of experience in the aviation department is due to a serious fear of flying, you'll already be familiar with the various methods of overcoming your anxiety that are available to help you become a confident flyer. There's no one size fits all approach, and what helps one fearful flyer may do nothing for the next. But one element common to most flying phobias is a fear of the unknown, which is why flying courses have such high success rates.
Finally! I have been working on this guide for a year. This is all of the knowledge I've accumulated from traveling with Eula during the first year of her life. Before her first birthday she'd been on over 40 flights and to at least 10 countries. I lose exact count, to be honest. We've dealt with sickness on the road, jet lag, packing, blow outs, missed flights, you name it. And it's all been fine. After over a year of traveling with a baby I can say with complete honesty that it's totally worth it and totally doable. Yes, it's harder. Of course it's freaking harder. Not having a baby vs. having a baby. You do the math. But it's not that hard. When it is hard just remember, this too shall pass. Have a relaxed, what happens happens attitude. No flight ever lasted forever, no crying spell either, no cold, no jet lag. If you're the sort of person that would get totally freaked or exhausted or just generally not enjoy yourself over a crappy night's sleep or on the road inconvenience, then maybe it isn't the life for you. But if you're reading this, I'm guessing you value travel, and in that case, it's worth it. Totally. Babies love to watch the world go by, and ours was always happiest on the move and meeting new people. Keep reading below for my tips & experiences, packing list, a list of favorite gear, and for photos of Eula's first year growing up on the road! Keep in mind, what worked for us won't work for everyone, but this is what we did.
The fear of every parent is flying when their child has a cold, as they inevitably go Poltergeist upon take-off and landing. In those situations, even those parents who you thought were your allies will refuse to make direct eye contact with you. But even if a child doesn't have a nasty head cold, they still tend to complain about their ears popping during the flight. You can tell them to try yawning or chewing some gum to alleviate the discomfort in their ears. But I find that headphones — for you the parent — are the most effective solution.
I made a lot of mistakes over the past five years. I've been scammed in Russia, China, Laos, the Maldives, Tanzania, and Sri Lanka. I managed to lose half the things I was originally travelling with. I've got lost more times than I can count. And homesick. I fell in a rice paddy. I sat next to a dead body. I was caught up in a tsunami. You guys know my list of travel disasters is seemingly never-ending!
Assume your baby is flying free under 2? Double check. Oksana found she was expected to pay far more than she had imagined on one recent flight: "you may be surprised that some airlines force you to pay up to 75% for a ticket without a seat. This happened with me and my one-and-a-half year old son. In this case you don't save money! Buy a normal ticket. At least you will get extra space – that is really valuable."
This is the safest mode of public transit. A lot of people in cities like London, Paris, and New York do not use carseats in cabs for short jaunts around town. I say this because I wondered so much what the reality was and few people were willing to just spell it out for me. I don't encourage this, but I want moms to know the reality because I wanted to know. They take the subway or hop in the back and hold the baby or wear the baby in a baby carrier/sling. This is NOT recommended. That said, if you are going to do so against recommendations, wearing the baby and making sure that the seat belt is NOT over the baby is critical. NEVER put a seat belt over a baby on you. If you are in an accident and the seat belt is over the baby's back, your body can crush the baby. Again, this is NOT recommended. At the end of the day, it's up to the laws of wherever you are and you. A car seat or alternative form of transportation is always safest.
Way To Make Flying With Kids Easier If you are a frequent flying family, get a Trunki (the website has Canadian stocklist info). These hard cases double as ride on toys that make it fun and fast to get to your gate. Your child takes a seat, holds onto the horns and you just pull them along. They work with children ages three to six, and the case is big enough to hold a weekend's worth of kids toys and clothes.For kids under three, you might want to consider investing in a car seat/stroller combo, which can be used on the plane for your child to sit in, and will eliminate the need for hauling two cumbersome pieces of equipment on your trip. Reply 

14 Getting your children started on a few holiday-related projects before you leave is a great way to prepare them for what's to come. You could explore maps, or the history, geography, animal and plant life of your destination, or read books or watch a film that's set there. If the food is likely to be radically different, research dishes that they might enjoy, and try rustling up something similar before you go.