2 If you are travelling with another family, or adults, before you go, discuss what each person wants to do, agree how to split chores or take turns minding the children, and talk about the balance of spending time together and apart. Come to an agreement about the way you'll split the bills (taking into account the smaller share of expenditures for the children).

A poorly timed pre-takeoff bathroom break could hold up the entire flight. "There's a sequence to taxiing and getting in line for takeoff," Sara Keagle, a veteran flight attendant and blogger at TheFlyingPinto.com, told Woman's Day. "If somebody gets up to use the restroom, we have to tell the cockpit, and they have to stop the plane and wait until the person is back in his or her seat and buckled up. During that time we could lose our spot in line." Learn some more secrets flight attendants won't tell you.
If you are an active parent ready to bring your kids on your travel adventures, you have come to the right place. We don't believe parenting means giving up your passions, especially when you travel. Here you will find inspiration to get you out the door while keeping your sanity. We bring you restaurant recommendations, favorite shops, hotel reviews, packing lists, plus activities, cultural events and more that everyone in the family (not just the kids!) will enjoy. Thanks for joining us and don't be a stranger.
Even the most seasoned travellers sometimes get confused by airline rules about baggage allowance but as a flying newbie, the first thing to get your head around is the difference between cabin and hold luggage, then to look into whether or not you need to take both: usually, if you're travelling long-haul (that's a flight that lasts six hours or more), you will want to 'check in' at least one piece of hold luggage which you'll need to leave at the check-in desk before boarding. It'll then be returned to you at the other side, where you'll need to identify it on a luggage carousel.
While a last-minute upgrade might seem like a good idea—especially if you often find yourself falling ill on flights—the seats in the middle of the plane are best for those with motion sickness. "A plane is like a seesaw. If you're in the middle, you don't move as much," Patrick Smith, pilot and author of Cockpit Confidential told Reader's Digest. Here are some more secrets your airplane pilot won't tell you.
We have a fun new product that can definitely help with young travelers. Check out MyPlaneSpace at MyPlaneSpace.com – it's an arm-rest divider! Works wonders to help kids keep their own space while sitting next to each other or other strangers on the plane! Plus it helps as a great germ barrier between your child (or you!) and the person seated next to them.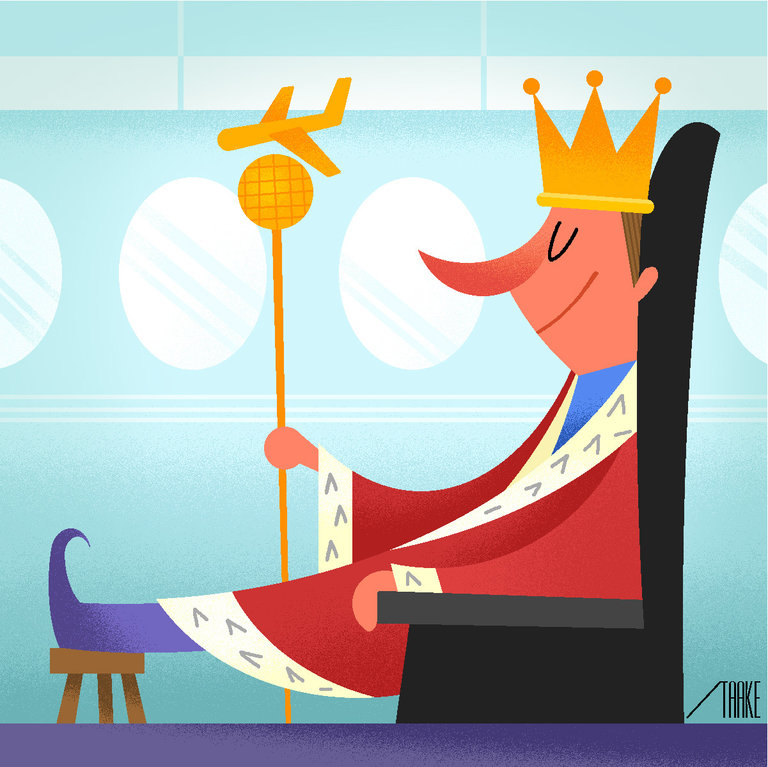 Don't try and trick your kid with the whole, "Just close your eyes and we'll be there" routine. No person sitting in economy class has ever gotten a restful sleep in the history of commercial aviation and your fussy child is certainly not going to be the first one. So just ride out the storm …and hopefully you can find that new parent friend of yours that has the children's Gravol.
Another situation that has only gotten worse since the airlines (minus Southwest Airlines) started charging checked baggage fees is the fight for limited overhead bin space. I'm someone who never checks a bag if I can help it. Thanks to having status on two airlines (which means early boarding and plenty of space in the bins), I never have to worry about overhead bin access. But that hasn't stopped my fellow passengers from behaving badly.
I had the Barclary Arrival credit card and it was super easy to earn AND redeem rewards. At the time I had to put $3,000 on the card within the first 3 months and then I got 60,000 points, which was about $625 in travel credit. Plus you get 10% of your redeemed points back. So I booked us 2 roundtrip flights from Newark to Orlando and a hotel outside of Newark – earned the points for those purchases and then I was able to go into my account and pay the travel portion of my bill with my points, plus get 10% of them back. Super easy! We also booked an AirBNB in Providence, RI that would have cost us $275, but was free because of rewards. Also, no foreign transaction fee, which is nice if you are leaving the US. I cancelled it after the first year though because I was just churning it for the points and didn't want to pay the $89 fee after my first year was up. Something to think about though!
14 Getting your children started on a few holiday-related projects before you leave is a great way to prepare them for what's to come. You could explore maps, or the history, geography, animal and plant life of your destination, or read books or watch a film that's set there. If the food is likely to be radically different, research dishes that they might enjoy, and try rustling up something similar before you go.
If you're suffering from food poisoning, it's best to let it run its course rather than clogging yourself up with Imodium, but there are some situations where it just isn't possible to do so. I'm talking flights, long bus journeys, booked tours, and anything that requires you to leave the bathroom. A large supply of Imodium is something I always have in my backpack for these emergencies. 

For me, sleep is the biggest one. That's the one that drives me nuts. When a child is tired but doesn't know how to go to sleep? I can't handle that. Screw the patience and compassion. It goes against everything I am because it just isn't logical. It still drives me nuts even at home. I refused to do the flying thing any more until kids no longer need a nap. Now that's over, I will fly again with them.
Pick the Right Carriers: The airline with the best record for luggage handling over the past two years? Virgin America, which averages just 0.88 mishandled bags per 1,000 passengers, according to the U.S. Department of Transportation. Following close behind: JetBlue (1.88) and AirTran (2.02). American Eagle, on the other hand, averaged 6 incidents per 1,000 passengers.
All these tips are great, but I truly appreciate the perspective about Sunrise is better than Sunset. I know I am probably in the minority here, but the freshness of morning is a rebirth for me. And a dazzling sunrise does more for lifting my spirits than almost anything else. Whatever problems I had yesterday, now, with this new sunrise, I have a chance at a fresh start. (Don't get me wrong…I love a romantic sunset too!)
Love this. Everything about it. Our friends thought we were insane taking our little lady everywhere with us. She'll be two next month and we're squeezing in one more international trip before then (infant in arms saves so much!) I think her flight count will be 50+ at two years. Only thing I'd add in is specific remedies I bring for colds, headaches, restlessness etc. Bach's Rescue Remedy has been a lifesaver for us!
Thanks Matthew, I'm a 65 Year old new Zealander and been travelling south America last 6 months aiming for world! I got sick in hospital Bolivia and just had accident falling down steps in Quito Ecuador Hostel, but been enjoying myself nevertheless! Insurance far too expensive someone my age, so have to risk travelling without it. I'm traveling on my fortnightly pension! Thanks for tips.
We don't have family near us, so we knew we a would be flying quite a bit with an infant. We opted for the Doona car seat/stroller – it's incredibly easy for travel since the wheels are built into the carseat itself. It also buckles into any car without needing a base, so it's great for cab rides. It will probably only with for us until he's 1yr, but it's totally worth it to us.
Ok so I am not going to apologies to you or anyone for being a parent. Parents have enough on their plates to go catering to your likes and dislikes!! No parent would want to purposely travel with a toddler /baby unless they absolutely have to .. You think they put themselves through the stress and the agony for fun?! Shame on you for shaming parents who are just trying to do the best they can. My family will always come first…i dont owe anything to you and people like you. why dont YOU get yourself noise cancelling phones…or cancel your flight if the babies bother you that much..just grow up! "selfish and anti social" …miss queen bee here doesnt want babies around when she is travelling coz her precious sleep will get disturbed. Even when I was not a parent i did not hate on parents travelling with babies. it was just something i accepted as part of life …i would just deal with it.
"Make sure they have taken care of all bathroom needs prior to the plane ride and be mindful of liquid intake afterward and its impact on bathroom frequency. It may sound harsh but know that we cannot always accommodate an emergency bathroom trip. This last weekend I had a dad come up to the front just as we were taxiing, telling me his son 'really needs to go poop and can't wait.' I had to tell him no! If we'd let him in the bathroom, we would have had to take a delay, which is a cardinal sin in the airline world!" —Christie Poulton.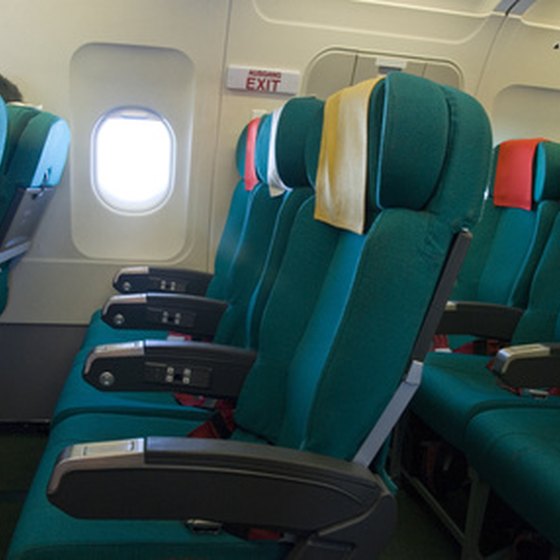 It is almost May. I'm slightly alarmed by this. Not just because the year is zipping by, and I'm wondering how I squandered away all that time with so little to show for it (Whither the sample chapter of the great American travel memoir, Everywhereist? Whither the clean laundry you were going to do?), but because I am coming up on another anniversary.
Such an interesting post. I haven't traveled much since having kids. (Not for lack of wanting to, more for financial reasons. I would love to show my kids the world.) I would love to hear more about how you handle traveling in countries without easy access to potable water and with safety standards that are more lax. Did you worry about her drinking the bath water, did you take her in tuk-tuks or rickety public buses, that sort of thing? I lived breifly in India and dream about taking my kids there someday but it also seems like such a potential minefield.
Skyscanner PR Manager and mother-of-two Mary Porter has loads of tips on flying with toddlers. Our favourite is: "warn young children of the 'Aeroplane Police' who are looking out for badly behaved children. I am not suggesting you scare them out of their wits (and admittedly we never did explain what the Aeroplane Police actually do when they catch a naughty child). However, it proved hugely effective in stopping my toddler climbing over seats, playing with the fold down table, kicking the seat in front and all the other things that passengers around you really love."
On a typical flight out of Australia today, seat pitch – the distance between any point on a seat and the same point on the seat in front - is 78-86 centimetres. On a similar flight aboard a Boeing 707 in the late 1960s, it was 86-91cm. Domestic flights today offer as little as 71cm aboard some Jetstar aircraft. Seat backs are narrower on modern aircraft, which helps, but we're bigger than we were in the 1960s, and broader. Seats are no wider than they were in the 1960s.
One thing I thnk you'd love which you may not yet know about is PortaPocket. Lets you safely, hands-free carry small essentials ON your body. Much more than any neck safe, money belt or leg wallet. It's a patented, wearable system that's modular, so it's really ALL of those in one, and works almost ANYwhere on your body (& either under/over your outfit). Super confy, detachable/interchangeable, easy to use. Go from a workout to a night out without skipping a beat. I won't leeave home without 'em, and haven't relied on a purse to carry my valuables in over 10 years. Freedom = GOOD!!
Another thing! as good as it is to take earplugs (plus most airlines charge for those) it´s good to take a sleep mask for those who can´t sleep without total darkness, and in planes there´s always subtle lights left during the flight, they are also very helpful at hostels or dorms where there´s always somebody turning on the light while you´re sleeping…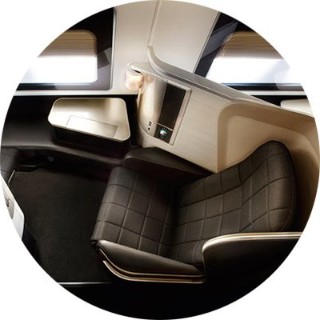 Good advice. Here's a dozen more. (1) Packing a towel: get a thin, cotton towel used in Turkish Hamams. They pack to nothing; dry out fast; double as a sarong, Mosque head covering, or picnic cloth. (2) Universal sink stopper – don't leave home without one. (3) As much silk, light cotton, Gor-tex, and synthetics as you can tolerate. Dries fast, light weight to pack. (4) Prescription scripts – diabetics know this is critical; others can use the advice as well. (5) Money belts – absolutely use them!!!!! (6) Lunchtime museum visits – check opening hours!! MANY close at lunch. (7) Locks: Yes, but add thin fishing lead wire (loops on both ends). Lock luggage together or to the overhead bin of buses and trains. (8) City Attraction Cards: some work; most don't unless you want to race from museum to museum. Do the math first. Often transit cards are a better deal than the full event cards. (9) MAJOR sites/museums: book admission times/fees on line in advance. Why stand in line at the Louvre, etc. when you could be inside appreciating. (10) Double-check all opening hours on line and ask TIC what sites are closed (for renovation; lack of funds; you name it). All guide books, no matter how useful, are out of date the minute they hit the stores. (11) Learn to use Kindle (or similar) for travel reading but as NOT guide books (worthless). (12) Location, location, location. Sometimes, that cheap hotel/hostel/apartment in the boonies is worth the savings, but not if you want/need a quick refresher in the afternoon. AND, always ask floor level and elevator availability when renting an apartment! European floors begin on the "ground" level, not "first floor" — and the stair cases can be very high. Not all of us are twenty-something Australians who can climb mountains with full packs.

Hello Lauren, great tips. thanks so much for sharing! I've been doing lots of searches as well for travel tips and your tips are very helpful. I'm not new in traveling, but end August I will be taking for the first time a 6 months trip and yes with a bag pack for the first time ha ha. I just lay out all the clothes that I want to bring with me. I still have to sort out what I actually need to avoid overpacking. Considering I'll be traveling around in S.America where weather varies a lot from one country to another , packing is a little bit tricky I find. But you are right when in doubt do not bring them! I need to check out the solid shampoo and conditioner. i have dry shampoo as well but they only come in 200ml, was looking for something smaller. Will also check out HERE maps and make use of the camera on google translate! As you can see your post is really helpful! thanks a lot and keep sharing ;-)
Grizzly and black bears are found in Canadian parks in the summertime and can be potentially dangerous. When visiting national parks, always ensure no food products are visible to bears. Dispose of garbage, use airtight containers for storage, and cook away from campsites. Get knowledgeable on bear safety too. If visiting Churchill and its polar bears, be extra vigilant as polar bears are the only animals to actively stalk humans.
Really awesome photos as always. Dave and Deb, my girlfriend and i we love your life style. You guys really inspire us. Thanks to you we have been traveling asia for 6 months. To be honest i was thinking its really bad idea to travel with your GF but after all experiences, this is the best way for traveling. Thanks for the whole site and this valuable tips.
When you are in our forests and mountains remember you are in bear country. You can also expect to see other large animals such as moose, elk, deer, bighorn sheep and mountain goats. Never attempt to approach, harass or feed any wild animal. When on foot, keep a safe distance at all times – at least 100 m (more than 300 ft). Most animals will avoid you if they can hear you coming, so make lots of noise when hiking. Stay in your vehicle when viewing animals along roadways. Pick up brochures at visitor centres for safety tips.
Thanks for sharing the link, Hayley! I'll check it out. The flights I buy are usually super-cheap, though, so I don't feel as though I'm spending a ton of money on them as it is. As an example, this year, I've flown Lisbon to Cape Town for $250 return, Copenhagen to Los angeles for $100 one-way, and Rome to Tokyo for $200 return. So I'm not like, oh man, I really wish I wasn't spending this much money on flights. But as I said, will check it out nonetheless!
1 If this is your first trip with your children, plan for a slower pace than you might usually attempt. If you want to see more than one place, be realistic about what you can cover with little ones in tow. The less you feel you have to pack in, the more enjoyable and stress-free the holiday - and you'll be better able to take the odd day indoors in your stride if the weather is bad or the kids need to rest.

I always thought money belts, neck wallets, and bra purses were for carrying "extra" cash or so you didn't have to leave money behind in your room or lose it all if robbed. For example, I have $50 in my regular purse. If I spend all of it, when I have some privacy, I'll pull $50 from my hidden stash in my bra purse (attaches to the strap or side of a bra) and put it in my purse. There are comfortable bands that can be strapped around the thigh. These aren't meant to be accessed during transactions.
A few days ago I was on a two-hour flight with an infant who screamed like its parents were strangling and beating it for an hour. Every damn person on that plane had to share in the anxiety and unhappiness for a solid half hour at each end. It became clear that the baby was reacting to cabin pressurization and depressurization — its ears hurt, poor thing, and all because its parents were so selfish that they couldn't wait a while to jet off again.
7. Forget the pacifier wipes, but bring a hand cleanser. I like individual packets of Wet Ones with anti bacterial goodness. Your child will be touching something gross before you have chance to call out their name, so make sure you have your hand cleanser of choice with you. The bathrooms may be questionable and inaccessible, especially once on board.
Seating advice? Got a couple of long-haul flights with my very active 2.5 year old son this summer, without hubby. Do you recommend that we go for an aisle + middle seat (easier to get up and move around, go to bathroom, etc, but no access to window and potentially more disruptive) or window + middle seat (he can watch the commotion during takeoff and landing and be further away from other passengers, but we will bother the aisle-seated passenger when getting up which we will surely do often). Any thoughts? Am already dreading this! Reply