What happens if you arrive in a city, go to grab your email confirmation for your accommodation, and your phone and laptop are out of battery? I always make sure I have a hard copy of my guesthouse name and their address, as well as directions if I won't be taking a taxi. Once I arrive, I'll grab one of the hotel's business cards, so I'll always know where I'm staying, and can show it to locals to ask for help with finding my way back.

I'm actually the oldest kid (teenager), but I saw this on Pinterest and thought I'd check it out since I have a younger sibling and flying with him…yikes. If I could say one thing, parents, fly with your kids when they're young! I have been flying since I was too young to remember, so I've never been afraid of it, same with my brother, and it just makes life so much easier. I flew alone for the first time when I was ten, and flew international for the first time (NOT alone) the next week! My first flight that was more than ten hours was last summer, eighteen hours to South Africa, and I was fourteen. Now I've gotten to fly with my school several times, and I'm always shocked by the kids who don't even know how to go through security: or who have never flown at all! Fly with your kids, I know it really helped me out, and I now I plan to move to Europe after college.
Rarely ever do airline tickets get cheaper as your departure date approaches, especially if you need to fly on a certain date. Budget airlines typically offer low rates as a baseline price, and as these tickets sell, the remaining ones increase in cost. This is very typical in Europe and Australia. If you know when and where you're going, don't wait on an unknown sale. More often than not, your biggest savings come from booking far ahead when you can.
The one thing I really have to disagree on though, and think you're mad for not doing, is collecting points and airmiles. I cottoned on to this a few years back and every single trip I've taken since then has been by using airmiles and reward flights. I've travelled to Thailand, Finland, Croatia, Italy, Spain, South Africa, Germany, Norway and more – all with points and just paying the taxes in cash. It saves a tonne of money and even if you use budget airlines most of the time, if you pay with a points-earning credit card then you can still collect points to use on airlines where you may want a better quality experience, for a longer flight for example. I would seriously recommend American Express – I've had the Amex Gold, BA Basic and BA Premium Plus cards. I've also just applied for the Lloyds Avios rewards visa and mastercard combo for when we spend a year abroad, which also comes with 0 fees on foreign spend and earns you points. If you want more info, I find this really useful:
So many people will tell you not to travel with jeans, but if you wear jeans all the time at home, you'll want to wear them while travelling, too. I didn't start travelling with jeans until my second year of travel, and man, I missed them so much! They're not *that*  bulky so you really don't need to worry about the extra space and weight. And in many cities in Europe, you'll want to wear jeans to fit in with the locals — you don't want to look like a grubby backpacker in Paris!
It's cramped, noisy, dries the skin and frizzes your hair, but flying is the magic carpet that makes our holiday dreams a reality. Leave home in the morning and by evening you can be sipping a cocktail at Ozone, 118 floors above Hong Kong, or by the pool of your Balinese villa, becoming one of world's slightly more than 3 billion passengers flown by airlines, based on 2014 numbers.
Petty crime is, unfortunately, rife in most large cities around the world. Many thieves target tourist attractions and hotels, as they believe vacationers are easy targets. Handy tips include leaving your passport in the hotel safe and carrying a photocopy with you. It's also helpful to try and keep luggage out of sight in cars and not to leave any valuables behind, even in a locked vehicle.
Don't try and trick your kid with the whole, "Just close your eyes and we'll be there" routine. No person sitting in economy class has ever gotten a restful sleep in the history of commercial aviation and your fussy child is certainly not going to be the first one. So just ride out the storm …and hopefully you can find that new parent friend of yours that has the children's Gravol.
Haha, I liked the use of Pokemon Go. I do have one tip which has served me well, and a friend who is now adventuring; to combat the loneliness, anxiety and homesickness, share selfies with your people. I started doing this with my Mum when I was at Dublin Airport and I'm now preaching it. I'm also opening up to booking one way tickets so thank you Lauren. You are an inspiration.
When she was tiny I was hyper-vigilant, using sanitizing wipes on everything. And I think when they are little and their immune system is developing, it's not the worst idea to wipe down the tray table, arm rest, and other hard surfaces that nasty stuff could live on. That said, the older and tougher (haha) she gets, the less I stress about it. When she started crawling, I let her crawl on the floor and would wipe her hands off afterwards. But we can't put our babies in bubbles, and the truth is that if you're clean but not maniacal about it, it's going to ultimately build their immune system. So as she got older, I got less neurotic, and that seemed to work fine. My husband, however, would definitely prefer she not crawl on the floor! So we are balanced in that way, he protecting her from germs and me shrugging and being like "Eh! Good for the immune system!"

Grizzly and black bears are found in Canadian parks in the summertime and can be potentially dangerous. When visiting national parks, always ensure no food products are visible to bears. Dispose of garbage, use airtight containers for storage, and cook away from campsites. Get knowledgeable on bear safety too. If visiting Churchill and its polar bears, be extra vigilant as polar bears are the only animals to actively stalk humans.
As an ex flight attendant and soon to be mom, it's nice to see a thought out and practical article! Snacks are a must as not many airlines have baby/todler friendly snacks on board. On international flights, breast milk/formula can be heated/chilled if needed. Many airlines have amenity kits for moms and baby. Just ask! Cabin crew are not allowed to WALK with an infant in their arms while on board. It's a legal thing, but holding for a few minutes is usually ok! International carriers have baby bassinets so try to get a seat at the bulkhead if you can. Hope this helps!
I love tips number 14 and 19, 14 which is Travel Does Not Have to Stop Once You Have Kids, I agree with it you can still enjoy travelling with your kids this will strengthen the bond of your family. It is in our mind that we are afraid because we might lose our children We do have this technology GPS tracking devices to keep track on them .19 which is Get Up early, Seeing the Sun rise is a great experience especially if your house is located on the top of the mountain with matching view of the sea near your location.
This may be a fluke for our particular itineraries and that our starting airport is almost always Tel Aviv, but with the timing and everything else we generally opt to take a layover in Europe (we usually need to get to Miami first when flying to the states and can check bags through if we stop in Europe whereas a long flight to JFK then a flight to Florida means customs, getting bags, rechecking bags, etc etc etc).
"Make sure they have taken care of all bathroom needs prior to the plane ride and be mindful of liquid intake afterward and its impact on bathroom frequency. It may sound harsh but know that we cannot always accommodate an emergency bathroom trip. This last weekend I had a dad come up to the front just as we were taxiing, telling me his son 'really needs to go poop and can't wait.' I had to tell him no! If we'd let him in the bathroom, we would have had to take a delay, which is a cardinal sin in the airline world!" —Christie Poulton.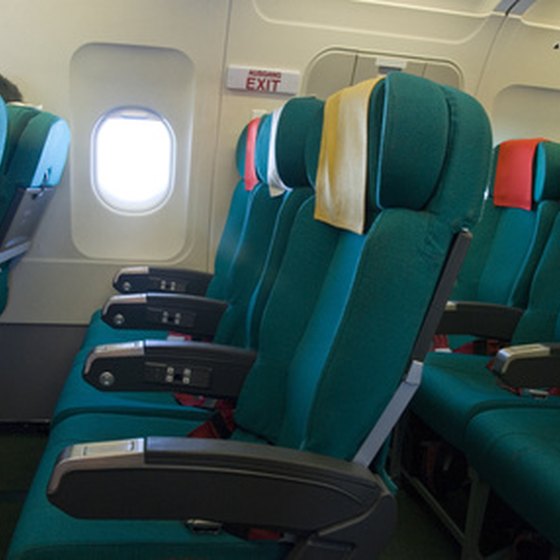 Towards the end of the flight, your child will become irritable and agitated, as the effects of sitting in a stale environment for three to five hours start to catch up. When they ask you how much longer is left in the flight, always lie to the child to make it seem like the landing is imminent. I usually go with, "Just about 25 minutes to go — hang in there." Be sure to disable the interactive map feature on the headrest TV, as the child may figure out that you are really 2.5 hours away from your destination.
Use a packing checklist: One new toy or book for every hour; an empty baby bottle for water; a change of clothes; plastic zipper bags; baby wipes; extra jackets and blankets; headphones; iPad; cups with lids; clothespins to fashion a tent over a baby's bassinet; snacks; pacifiers; Dramamine for kids who suffer from motion sickness. Don't load up on too many diapers, because you can buy them at your destination. A diaper bag doesn't count as a carry-on, so pack it with a few diapers and fill the rest with other stuff.