You'll often find train formation plans posted in glass cases on station platforms so that you know where on the platform to stand to board your particular car.  These show the train make-up with carriage sequence and carriage numbering for specific train departures, listed by train number. Unfortunately, train operators don't usually provide this information online, but there are a couple of useful private sites that show this information, often with photos of what the cars look like:
By tradition, members of the governing party occupy the seats to the right of the speaker or chair, with the premier and other ministers in the front benches. Occasionally, due to space constraints, members of the governing party may also sit on the left. Members representing opposition parties are seated to the left, with the leader of the official opposition sitting opposite the premier.
On the way back from HKG, I paid up and got the Business Class (can't remember the seat#, it was window). While obviously it is a much improved seat versus Econ, the layout, and setup is horrendous for a business class charging thousands. The seat is so uncomfortable in any seating position you try to constantly adjust it, your knee hits the side of the seat, and if you get unlucky and get a window seat, you literally must climb over the passenger next to you to get out, are you kidding me? Further, due to more seats cramped the service is suffered compared to regular 777, 330, or 767.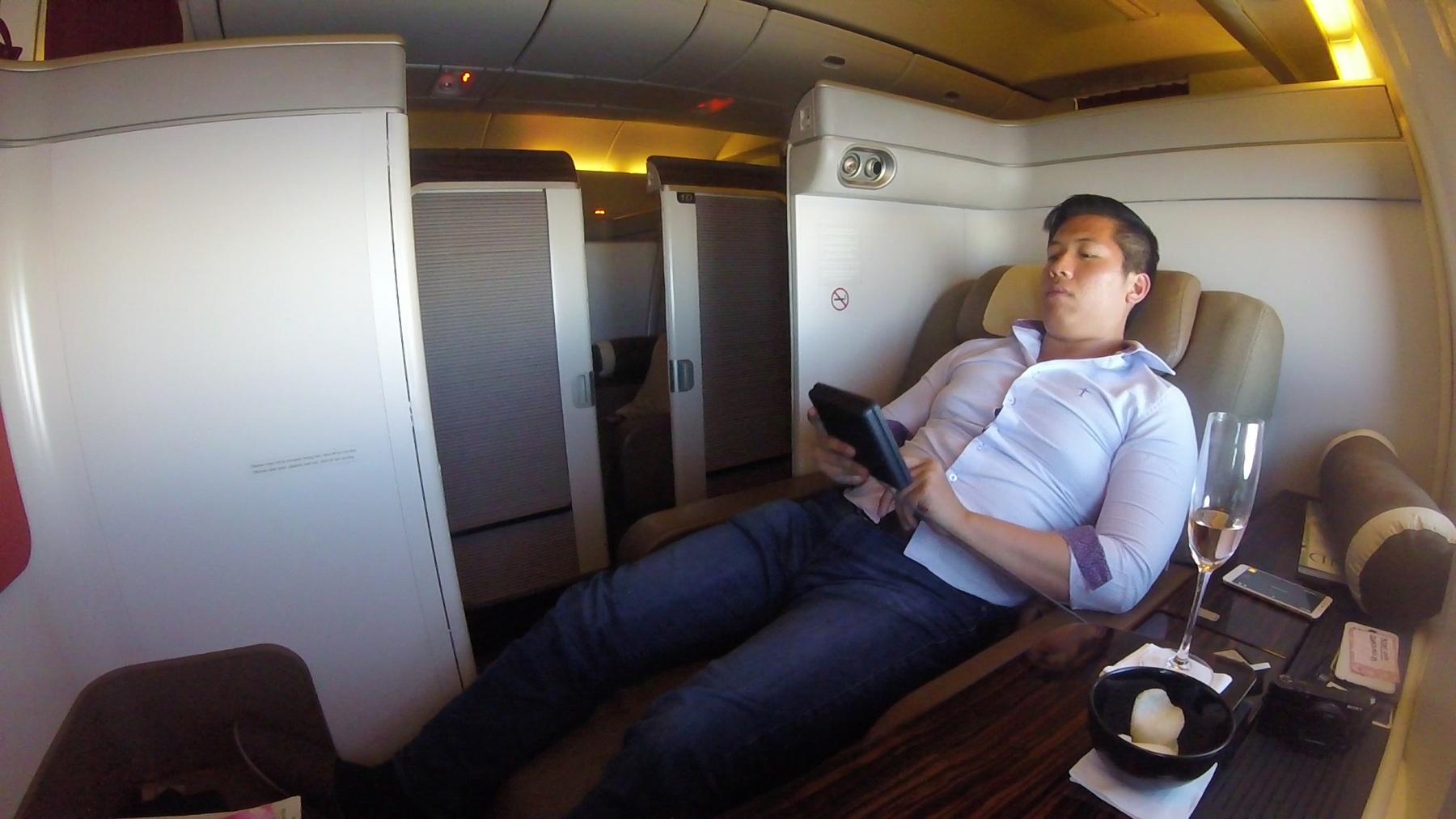 As for Vij's comparison to WestJet: their Plus seating is more pitch, a blocked middle seat with a free sandwich and snack (and unlimited complimentary booze). AC's long haul J service includes 4 hot meal choices in china dishes, and two premium red, 2 premium whites as well as expanded beverages (Cranberry juice and Perrier). WestJet continues to charge for meals in Y on their overseas flights, AC still provides complimentary hot meals with choice of entrée and free booze in Y on Asia and Europe flights (not US, Mexico or Caribbean). 

For 77W ver 2, The side rows of Premium Economy (14A/C/H/K) are very poorly designed with recline severely limited by the wall behind. For the middle seats (14D/E/F/G), there is more recline space to the wall. When the seat in front reclines, it feels very claustrophobic and forget about trying to pick up anything below, since even untying your shoelace can be very difficult. On this plane, the first row of seats has more leg space than I've seen on other Premium Econ on AC. This is the first time I've noticed the recline in the last row so poor, and I've sat in 14K many times on other AC planes.
While not surprising, Air Canada will sell the forward cabin of these transatlantic flights as business class, even though the seat isn't really competitive internationally. Pricing seems to be comparable to what you'd pay for a flat bed on a 777 or 787. For example, a roundtrip ticket between Toronto and Shannon will run you ~$2,900. Logically it seems like they should market it as premium economy in terms of the product offering, but I guess they do this because they can get away with it.
Airline seat pitch guides give you an indication of how much legroom you can expect. Economy class cabins on long haul flights generally offer 31 to 32 inches seat pitch (the industry standard), with a smaller number of airlines providing 33 to 35 inches of seat pitch. The higher the seat pitch, the fewer the number of seats an airline can fit into the cabin, so in present economic times do not expect to see airlines increasing seat pitch standards! It is important to remember that newer "slimline" seats do mean that a 32 inch seat pitch can offer as much personal legroom space as an older type of seat in a 34 inch seat pitch.
This is a matter of personal choice, but on widebody aircraft you will generally find that the front of the Economy cabin is the quietest, normally just in front of the aircraft engines. The rear of the cabin tends to be noisiest from an engine noise perspective, and this also tends to bump around more during turbulence – of course, on less than full flights, you normally find that there are more empty seats at the back of the plane where you can spread out. For the meal services, it is difficult to suggest where you are more likely to be offered the full choice of meals before they run out! Some airlines start meal services from the front of the cabin, some the middle, and a few from the back of the cabin!
This was supposed to be an A330-300, however, the configuration was different than the seat choice map. This seems to be pretty common for Air Canada. The last time I flew this route it was in premium economy, however the premium economy had 4 seats in the middle and the "extra" legroom was not any better or worth the money over regular coach, so thought I would try bulkhead, row 18. I am not sure it was worth the seat cost. The person next to me asked to be moved even though he paid extra for the seat because he had a broken foot and it was more uncomfortable than regular economy where you can put your feet under the seat in front of you. This row perhaps had a bit more space from the back of the seat to the bulkhead, however the extra space for knees does not help your feet, and all bags need to go overhead. Having the seat next to me empty meant I could fold my legs over the tray table armrest that was not movable and stretch out a bit to sleep.
Our team were unanimous in selecting seats A or C, H or K in Rows 31-34 on this aircraft. On the plus side, you are at the quietest end of the cabin, will be amongst the first to deplane at destination, and stand a good choice of getting the full choice of meals on offer. Toilets are all to the rear, so no odours or queuing passengers nearby. On the downside, if the bassinet seats in Row 29/30 are full occupied by families with babies, there is a chance of occasional crying etc – so a good noise-cancelling headset would be a must.